Data Portal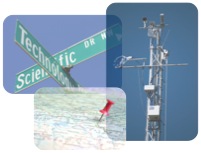 The EPSCoR data portal provides access to data generated by and of use to the EPSCoR community--researchers, educators, and policy leaders--as well as the general public. These datasets can be accessed through a variety of tools, including a quick search based on words in the titles and descriptions of available datasets and/or location terms, and a browsable list of datasets organized by category. For each dataset there are a variety of download formats and web services that are available to users of those data. The data available through this site--as well as support documents--will expand as EPSCoR activities progress.
Tools for creating metadata (data about data) are also available for project researchers, and the same interface may be used for locating datasets that meet geographic or keyword search criteria provided through the metadata search tool.
As data are added to the system please watch for notices about their availability. A user's guide for interacting with the data portal and the provided data services is under development and will be available soon.
For comments, questions and technical support please contact: Dr. Karl Benedict kbene@edac.unm.edu and William Hudspeth bhudspeth@edac.unm.edu at the Earth Data Analysis Center UNM http://edac.unm.edu.
Stay Connected
Like us on Facebook
Read our E-Newsletter
Follow us on Twitter