Faculty Opportunities
Faculty Leadership Workshop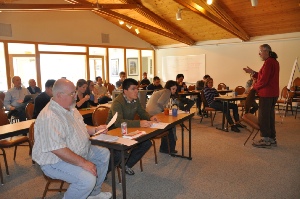 The New Mexico EPSCoR Faculty Leadership Workshop is an innovative 3-day intensive program designed to enhance the leadership skills of new faculty (Assistant Professors, recently-tenured Associate Professors) and outstanding post-doctoral associates. Specific focus areas include communication with decision-makers and the media, proposal development, management of large research projects, meeting facilitation, "broadening impacts" through education and outreach, and mentoring.
The three-day workshop includes:
Tips for writing successful research grant proposals and managing complex research projects;
Effective mentoring and teaching in a university;
Meeting facilitation;
Communicating science to the media which includes "practice" interviews with representatives of TV and print media; and
Communicating science to decision-makers, taught by a science lobbyist who has extensive experience on Capitol Hill and has taught an experiential day-long workshop for numerous professional societies.
View the Articles on Previous Workshops