Undergraduate Opportunities
Undergraduate Research Opportunity Program (UROP)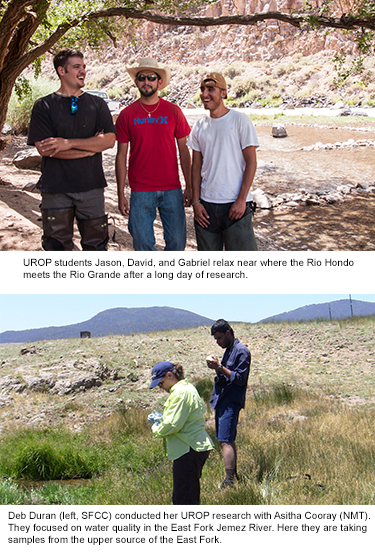 The Undergraduate Research Opportunity Program is a NM EPSCoR education effort led by Dr. Mike Pullin and Lisa Majkowski of New Mexico Tech. Through UROP, undergraduates from 2-year and 4-year institutions are provided the opportunity to perform high quality, relevant, hypothesis-driven research that may not be readily available at their home institution. Students chosen for the program attend introductory classes and workshops for a week at New Mexico Tech in Socorro, NM, taught by EPSCoR-supported faculty using a mixture of classroom, laboratory, and field experiences to learn about climate science and research practices. NM EPSCoR mentors guided the UROP students through research activities for the rest of the summer.
UROP participants conclude the summer research with with a statewide summer undergraduate environmental research conference at the Valles Caldera Science and Education Center. Students are invited to present the results of their research to an audience of students, faculty and research staff.
Participants are selected competitively and receive a stipend, housing, meal and travel allowance, and they will be enrolled in a graded, four-credit independent study course at NMT. Non-traditional and/or tribal college students with children and/or family and tribal obligations are encouraged to apply, and can choose to participate as teams in a shortened program structured to meet their needs.
All students who are enrolled as an undergraduate in any of New Mexico's public and private two and four-year colleges (including all campuses of Dine' College) except the University of New Mexico, New Mexico State University, and New Mexico Tech are eligible to participate in this program. All students must also be U.S. citizens or permanent residents and must not earn their bachelor's degree before the summer of the UROP program. For more information on UROP, contact Michael Pullin at New Mexico Tech.