Western Consortium (Track 2)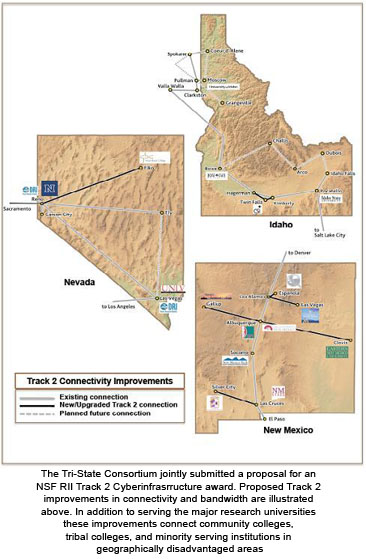 Idaho, Nevada, and New Mexico NSF EPSCoR have joined programs forming a consortium of EPSCoR states with similar research agendas related to climate change and water resources. The consortium model significantly increases opportunities for scientific collaboration and enhances each state's ability to secure competitive funding and tackle complex climate change research agendas.
The vision of the Western Consortium for Cyberinfrastructure Development is to transform communication, climate change science, and education in our tri-state region. The overarching goal of the project is to promote knowledge transfer to scientists, educators, students, and citizens within and beyond the consortium by enhancing state cyberinfrastructure (CI) and to enable the community science that is required to address regional to global scientific and societal challenges related to climate change.
The project has the following major components:
Connectivity
Interoperability
For more information, visit the Western Consortium website!
Annual Western Consortium Tri-State Meeting
Each year the Consortium holds an annual meeting to further collaboration and develop joint research and education initiatives. For information on past meetings, please follow the links below.